The New Age of Trichology

(2016 — present)

Photography credit: Tom Mannion
How can we use human hair waste to create new materials and design outputs?

Human hair is a natural resource that will be increasing in the future since the world's population is rapidly rising. The UK alone 'creates' around 6.5 million kilograms of human hair waste annually, which mostly ends up in landfill or slowly decays in the environment. This causes several problems for both the environment and human health, releasing toxic gasses and choking the drainage system. However, human hair has many valuable properties; it has a high tensile strength, is thermally insulating, flexible, oil-absorbent and is light weight.

This project explores the pure potential of hair as a raw material, reducing waste, environmental problems and the pressure on other non-renewable materials. The project consists of a range of utilitarian objects and tools that helps create a system all the way from collection through to the end application

The project started as a final year Masters project in 2016, and has ever since continued.
Collaborators
Diane Fisher, Handspinner, Murmuring Wheel, Sheffield (UK)

Des Pawson, Knot & rope expert, Footrope Knots, Ipswich (UK)
Jurgen Jacob Lodder, Filmmaker, Rotterdam (NL)
Marco Tomesani & Thiago Bon, Sound Design, London (UK)

THE SYSTEM
A closed-loop-system


A key design element for The New Age of Trichology is the system that needs to be put into place as this is a new way to use this material waste stream. The New Age of Trichology created a method of producing a material by using other existing crafts and using a waste stream. In this case focused on the tensile strength of the human hair fibre, where spinning and ropemaking techniques are applied. The system is a closed loop system in a way that the raw material collected at the beginning remains additive free and can go straight back into nature at the end of it's life cycle, through composting or recycling.
'It's just like any other waste management is done, think like the recycling of plastic, paper or coffee. Starting from the collection all the way to application and consumption, onto recycling or composting.'
QUALITIES
insights
Other than the high-volume of hair that is available in any locality, human hair has multiple, valuable properties.
On average, one human hair can hold up to 100 grams of weight, depending on the person's diet, health, environment, ethnical background and treatment of hair.

So, potentially a whole head of hair could withstand a weight of 12 tonnes.
It is not only high in tensile strength, thermal insulation, oil-absorption and flexibility it is also extremely lightweight.
Looking at the differences of hair type by ethnical background, there are a few clear facts about the hair fibres.
For example, Asian hair growth is the fastest, about 15 cm a year, whereas Caucasian hair grows 13cm a year and Afro hair 10cm a year.


Focusing on its strength, African hair seems to be the most fragile, breaking under a strain of 60 grams after an elongation of 40%.

At the other end of the scale, Asian hair is the strongest, withstanding a weight of 100 grams and an elongation of 55% for a single hair.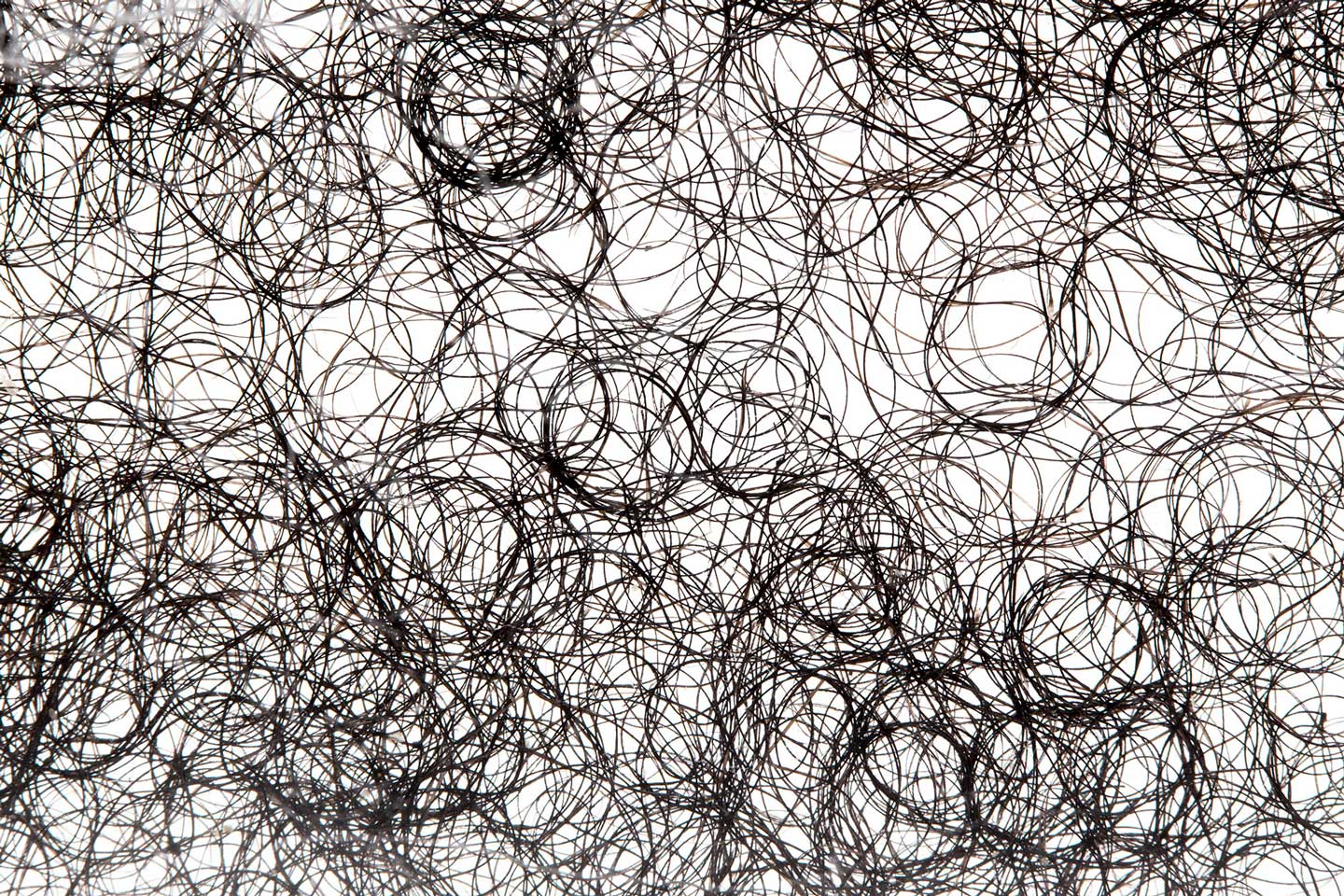 2ply yarn - Asian Human hair waste (on average, the yarn has a minimum breaking load of 32kgs)
2ply yarn - Caucasian Human hair waste
The products below are all made from Asian human hair waste, starting with a 2-ply yarn, which are then turned into ropes of various thicknesses.
UTILITARIAN PRODUCTS
The collection of products showcases the potential of different applications. Products made during the collection in 2015 include a Shoulder Strap, Bottle Holder, Belt #1, Belt #2, Dog Leash, Bungee Cords, Barrier Rope and a Bosuns Chair.

The New Age of Trichology aims to further develop other techniques and materials focusing on
different properties such as the thermal insulation, oil – absorption and flexibility of hair.
Areas that could be a potential context and which is most needed on a social and economic level, are areas such as the agriculture, medical, construction and engineering industry. Collaborations with more experts and professionals in the field allow further development of this system on a more accurate and larger scale, therefore this is an ongoing project and always seeks for collaborators and investors. Interested? Please Contact for more.