29 / SEPT / 2022
_____________________

BBC Morning Live
International tv debut..
---
12 / MAY / 2020
_____________________

Arts Council Emergency Fund
THANK YOU
We are so so delighted and honoured to hear today that the ACE (Arts Council England) accepted our application for the Emergency Fund. It has been a very tough time, as it is for many of us, to be able to continue with our work if no other work has come in. Unfortunately all the exhibitions and workshops that were lined up for the summer had to be cancelled or postponed.
Thankfully with the magical support of the ACE, we are able to stay positive, push through and thrive for the most imaginary! See you on the other side ︎
---
15 / APRIL / 2020
_____________________

Dutch Newspaper x 2
The news of today
Not just one but TWO articles in the Dutch newspapers of today! The one above is in the Nederlands Dagblad and the one below in the Algemeen Dagblad of the Drechtsteden. Happy reading and thank you once again Imco for the interview.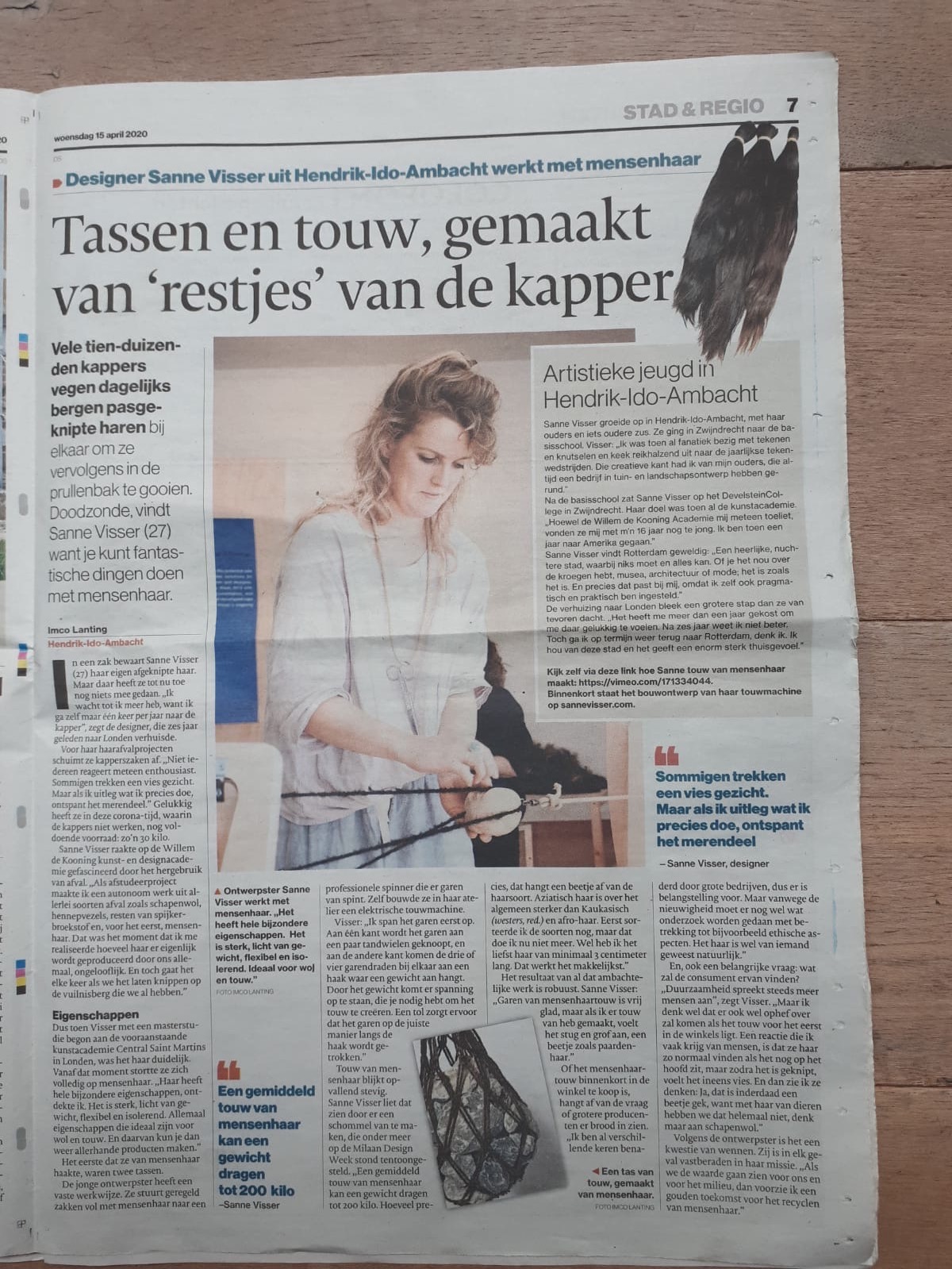 ---
14 / APRIL / 2020
_____________________

The Design Museum
The Online reality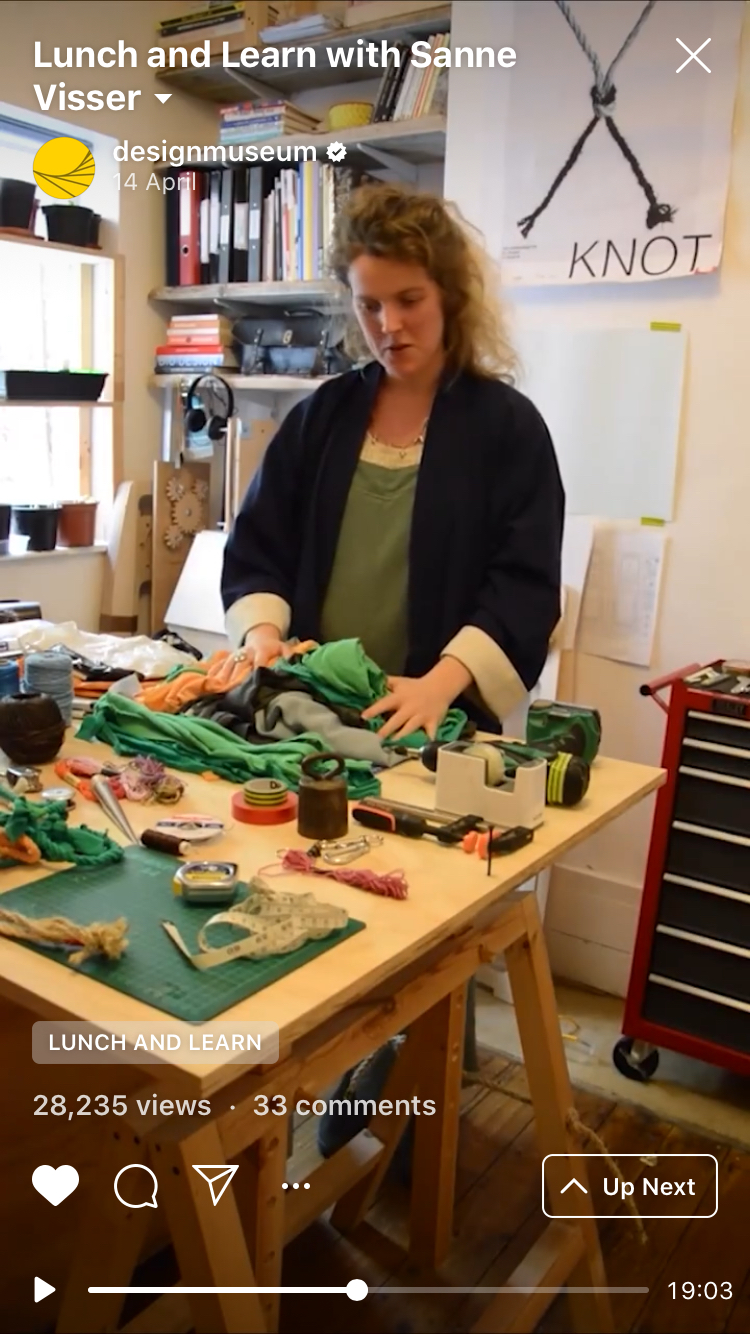 We are on one hand gutted that we couldn't host our usual physical workshop session at the Design Museum, BUT we are very exciting that we are now doing an online version and not only that : will give you tips on how you can make your own ropes at home from recycled materials AND an extra design brief to keep you busy during these uncertain times.
Please stay safe, stay sane!
Get yourself to the Design Museum's Instagrams account to check out more.
Also, slight note, we are very chuffed to see how many people have tuned in (28K+!!)
---
08 / JAN / 2020
_____________________

Heimtextil
Franklin Till's Future Materials Library
For anyone that is visiting this week's Heimtextil, don't forget to pop into the wonderous worlds of the Future Materials Library, designed by Franklin Till, showcasing a raft of disruptive designers and innovators who are proving alternative systems of production and consumption are not only possible, but essential.
Each project encourages us to think more about where our materials come from, what we do with them, and where they go at the end of their useful life.
Come visit at Heimtextil Trendspace Hall 3.0 .
Exhibition design by STIJLINSTITUUT.
---
16 / DEC / 2019
_____________________

Het Klokhuis
Dutch TV debut
For mainly the Dutch folks out there, we will be making our Dutch TV debut tonight, primetime at 18.40pm on NTR with the TV show 'Het Klokhuis' ! Most people will know exactly what it is!
We are very excited to finally see the footage! (The recordings were made nearly one year ago)
---
05 / NOV / 2019
_____________________

Roly Poly Bench
Spin at the Royal Docks!
Photo credits: Luke O Donovan
Ever thought of a spinning bench made of cork with added human hair rope? Probably not? We neither!
The Roly Poly bench came alive in November, which is been designed by the power couple behind the design studio Urban Radicals. The piece is fabricated by Millimetre Design and the human hair rope is created (obviously) by Studio Sanne Visser.
Want to take a spin or read more about the project? Please visit it in person at the Royal Docks in London or click on the project page.
---
27/ OCT / 2019
_____________________

Science Gallery PLASTIC!
It's a wrap!


We're back in the studio and still taking in all the exciting moments we had in the weekend of the opening of the PLASTIC exhibtion in Dublin. It was a real succes and people loved seeing the ropemachine at work. There were many 'Aw!' 'Oh!!' moments when the words human hair were dropped and people realised what the 3 by 3 meter knotted net was made of!
Want to read more about the event? Please go to the project page.
---
23 / OCT / 2019
_____________________

Science Gallery PLACTIC!
Hello, Dublin!
We've never set foot on the beautiful grounds of Ireland but this is the time; we have been so so delighted to have worked on this commission for the Science Gallery for its new exhibtion PLASTIC over the last couple of months.
Tomorrow is the opening and we can't wait to see you all there and obviously we will be doing some live demonstrations rope making!
See you there!
---
11 / SEPT / 2019
_____________________

Nominated!
H100 Awards
Very delighted to hear the we've been nomiated for the H100 Awards in the category Under 30s! It was an exciting evening last night with some of the greatest talents around town.
Many thanks once again.
---
02 / SEPT / 2019
_____________________

Munic Fabric Start!
Innovative textiles
From tomorrow we will be amongst thousands of others at the big textile fair in Munich; we are part of Munich Fabric Start in the sustainable innovations catogory, curated by Simon Angel.
---
10 / APRIL / 2019
_____________________

Ropemachine 2.0
Launched!
Not only are we showcasing some inside research knowledge of our latest project KNOT in Milan, we are also extremely happy to launch the newest version of the
Ropemachine 2.0!
Want to read more about the machine? Check out the project page. Or come by the exhibition and test it out yourself!
---
07 / APRIL / 2019
_____________________

MILAN DESIGN WEEK 19
Release of new project
We want you to come and see our newest research project KNOT!
Where
Via Lambertenghi 20, (behind B**K bookstore)
Isola Design District
Opening hours
Tues-Sat 11.00-20.00, Sun 11.00-17.00
'KNOT' by Sanne Visser is a project investigating the potential use of human hair waste in the pursuit of sustainable solutions for the fishing gear industry. Dutch material researcher and designer, Visser, kicks off the project during Milan Design Week 2019 with a showcase of early investigative research, documentation, and samples, alongside demonstrations of Visser's self developed rope machine and swing. KNOT is a continuation of Visser's ongoing project, The New Age of Trichology.'
During the whole of Design Week there will be a constant flow of
interactive
demonstrations
, including handspinning of human hair by designer Helga Aradottir and ropemaking using an automated machine by designer Sanne Visser.
For live updates, please follow the instagram
@studiosannevisser
to stay tuned.
The exhibition has been made possible with the financial support of Stimuleringsfonds, Creative Industries NL.
---
31 / MARCH / 2019
_____________________

Store Projects x Nike
Shoelaces.. why not?
Todays excitement: making shoelaces with 50 students in collaboration with Nike, organised by Store Projects! Fantastic
Have a look at the project page for more images.
---
20 / FEB / 2019
_____________________

The Design Museum
Talking and listening
BOOK NOW! For the Symposium run by Professor Carole Collet, Maison/0, which will be all about sustainable design practices. Be quick, tickets selling out fast! We will be speaking about our hair projects and will release some of our newest research discoveries.
Speakers include: Arne Hendricks; Guillian Graves (Big Bang Projects); Agne Kucerenkaite; Thomas Vailly; Fernando Laposse; Anouk Legendre (XTU Architecture); Phil Ayres (CITA, The Royal Danish Academy of Fine Arts); Christina Stadlbauer; Yesenia Thibault-Picazo; Sanne Visser; Kevin Germanier and Prof. Alison Clarke (Papanek Foundation).
---
08 / FEB / 2019
_____________________

Store Projects x After School Club!
Teaching the new generation of designers!
Store Projects doesn't only run regular workshops for the public or sell designers items in their store, they also are very much engaged with the local schools in the neighbourhood of Kings Cross. They invited us back to run an After School Club session two nights in a row, where students (aged between 14-16) were able to explore ropemaking techniques and knotting. What a great succes and how much fun was had!
Some snips of the evenings sessions..
Photo credits: Bonnie Pierre-Davis
---
12 / NOV / 2018
_____________________

Store Projects!
Let's get making
Yes, I would like to invite you all to come and join the workshop held at the Coal Drops Yard this Saturday which is organised by the wonderful Store Projects. They have just opened their shop 'Store Store' as well, since the 1st of November.
---
11 / NOV / 2018
_____________________

Droog Design x NMA !
At the Museumnacht Amsterdam
Excitingly the Swing was shown during the annual event held in Amsterdam called the 'Museumnacht'. The entire exhibtion of the New Material Award is on show at the Droog Design and for the Museumnacht they held an extra event where visitors could engage with some of the projects, one of which was the Swing!
Seems like people had fun....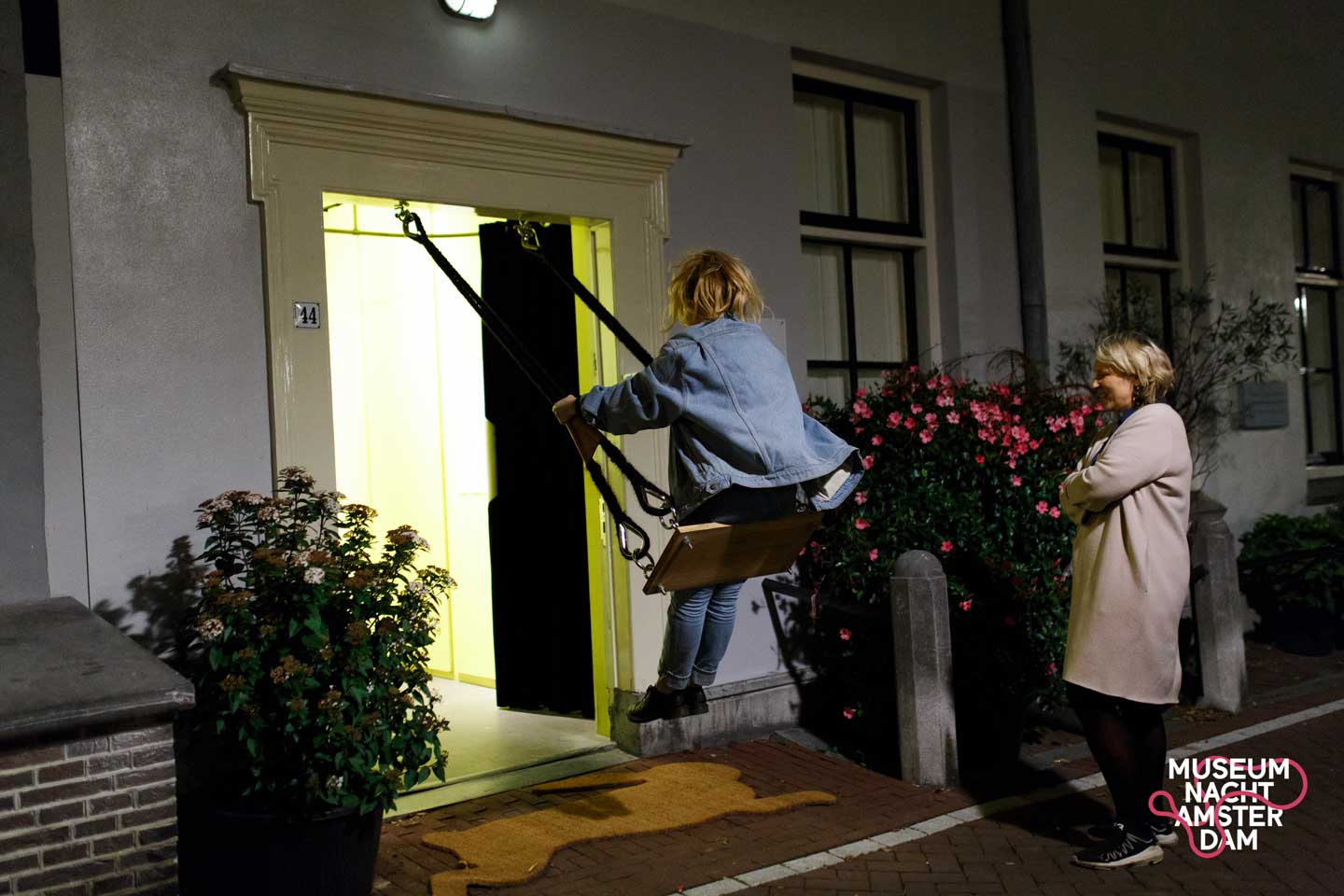 Photo credit: Victor Wennekes
---
08/ OCT / 2018
_____________________

More LDF !
Ropemaking in Somerset House
That is not it people! We didn't sit still during the London Design festival this year! We participated in a group exhibition and hosted a very succesfull ropemaking workshop in one of the beautiful rooms of Somerset House. Makerversity curated the exhibtion focusing on materials innovators, who are all part of the MV community, this included Chipsboard, Materiom, Studio Isabel Fletcher and Tsyml to only name a few.
Here below some snaps from the workshop
(picture credits Gabriele Gesheva)
There were two main sponsors involved to make these events possible: Embassy of the Kingdom of the Netherlands, and Arthur Beale.
---
14 / SEPT / 2018
_____________________

Why Materials Matter
Booklaunch with Bookends!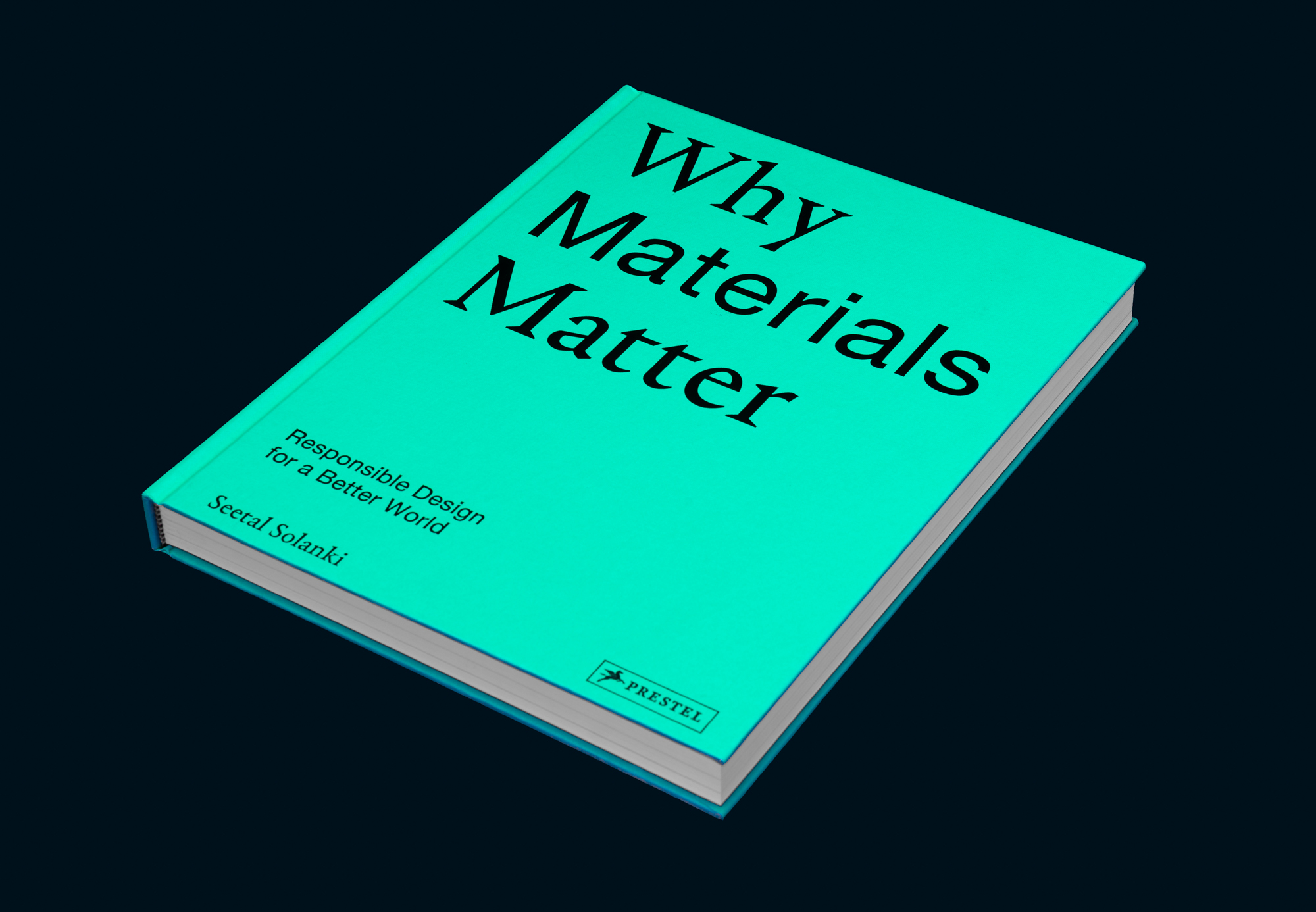 Matter Studio is launching its book Why Materials Matter, and The New Age of Trichology is featured in it! Wooh! The launch will be held during the London Design Festival 2018. Alongside, Seetal Solanki, founder of Matter, invited a selection of designers to create a bespoke pair of bookends! Below the result ︎︎︎
Pictures credits: Dilesh Solanki

Would like to see the exhibition? Find yourselves here: Yeoman's Row, London, SW3 2AL .
---
01/ SEPT / 2018
_____________________

TATE MODERN TALK
With the authors of Radical Matter!
Would you like to attend a Talk at the Tate and hear about radical material innovation? Sanne will be one of the guest speakers during a Radical Matter Talk in the Tate Bookshop, hosted by Caroline Till. Other speakers involved are the ever so amazingly talented James Shaw and Yesenia Thibault-Picazo. Tickets will go fast!
https://www.tate.org.uk/whats-on/tate-modern/talk/radical-matter-rethinking-materials-sustainable-future
---
16 JULY / 2018
_____________________

NEW MATERIAL AWARD
Nominated. YES!
YES YES YES!
The New Age of Trichology has been nominated for the New Material Award 2018! We are very delighted to hear this super exciting news.
Check out the website of the NMA here: www.newmaterialaward.nl, to find out more info and see who else is amongst the other great nominees !
All the selected designs will be exhibited during the Dutch Design week in October this year, when also the winner will be announced. The works will be also shown at the Milan Design Week in 2019.
Again thanks for all the support, especially towards The New Institute, Stichting DOEN and Fonds Kwadraat.
---
08 JUNE / 2018
_____________________

DOH
Making & relaxing on a designated Island
We will excitingly join this years designers residence on the Swedish island called Gotland. The residency will take place in the summer this year. Keep checking the instagram for instant updates!
Want to know what DOH is all about? Check the website
here
. They are very cool.
---
27 MAY / 2018
_____________________

HAIR! Human Stories
Exhitbion ALL about hair, in London!
Hair! Human Stories Exhibition – an anthropological and artistic venture into the curious worlds of hair, curated by Emma Tarlo, author of Entanglement: The Secret lives of Hair. ⠀⠀
⠀⠀
Private View 7th of June, 6.30pm – 9.00pm
⠀⠀
⠀⠀
Exhibition info:
7 - 26 June 2018
11am - 6pm
⠀⠀
Curator: Emma Tarlo
Assistant Curator: Gabriela Nicolescu
Designers: Caitlin and Callum Storrie
⠀⠀
Participating Artists: Stacy Bias, Alix Bizet, Sarah Cheang, Akinola Davies Jr., Jenni Dutton, Erwan Fichou, Cyndia Harvey, Jane Hoodless, Tabitha Moses, Sanne Visser
Institutional partners: INFRINGE, Hacketts Hair Salon, CVA Centre for Visual Anthropology, Goldsmiths
---
13 MARCH / 2018
_____________________

Radical Matter: Rethinking Materials for a sustainable future
Book launch in The Design Museum!
"Radical Matter – our first book is a wide-ranging and visually beautiful compendium of the experimental approaches, new materials and revolutionary thinkers that are rewriting design convention and creating a blueprint for a new model of production and consumption." - FranklinTill
Shit, hair and dust. Soot, soya and sawdust. Fungus and cellulose. All over the world, an emerging generation of designers and makers are rethinking raw materials, repurposing waste, and presenting radical solutions to the challenges of making and surviving in the modern world. We present a snapshot of projects and material innovations by the designers at the forefront of the making revolution.

More information: www.franklintill.com
Booklaunch at The Design Museum on 13th of March 2018, London.
---
15 NOVEMBER / 2017
_____________________

HAUTE INNOVATION x Subcontractor InnoDex (Sweden)
A 3-day event happening called Subtractor Elmia in Jönköping, Sweden, part of the Subcontractor Innodex forum. Hall C.
'The Swing' is shown by
Haute Innovation
, which is founded by Dr. Sascha Peters, an innovation consultant, materials expert and engineer.
---
07 AUGUST / 2017
_____________________

#Makers with a Mission (residency)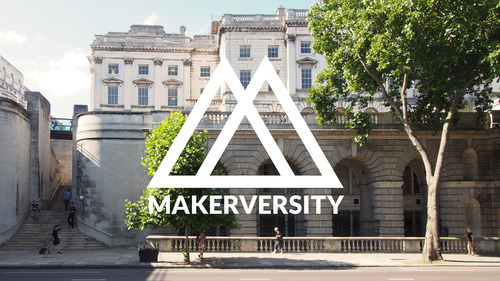 GREAT news! Sanne has been selected as one of the few makers in residence for 6 months at Makerversity. The program is called Makers with a Mission.
"Makers with a Mission supports emerging talent, extra-ordinary ideas and new businesses taking their first steps into the world. Through this residency Makers will gain access to studio desk space, workshops and machines, a thriving creative community and business support events. Alongside this, makers will get the opportunity to showcase work to the public through our program." - Makerversity
---
01 JULY / 2017
_____________________

Spread the word, spread the making
Ropemaking workshop during the event 'Material Explorations' at Somerset House.
Picture credits : Gabriela Gesheva
---
29 JUNE / 2017
_____________________

More Spanish adventures...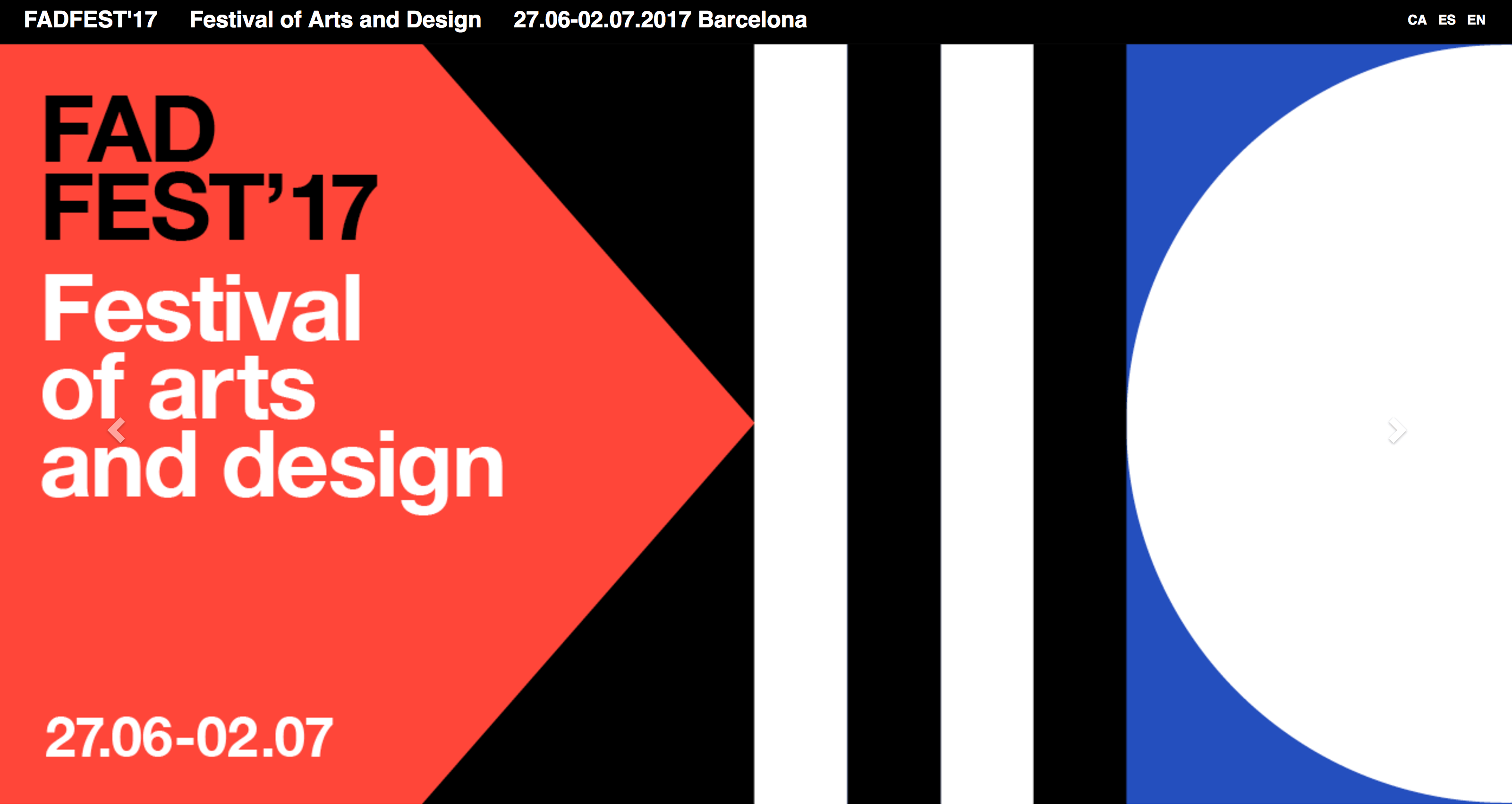 During the FAD Fest '17 in Barcelona, Sanne was invited by the great Materfad,
to be part of the Materials Farm Exhibition and Material Farm Talk at Museu Del Dissney de Barcelona (ES).
The exhibition 'The Materials Farm' featured the cycle of activities around new materials created
by waste from agriculture and living organisms as well as the exploitation of the personal and intimate waste generated by tourism.
28 JUNE - 02 JULY 17
18 JULY - 21 SEPT 17
Museu Del Dissney de Barcelona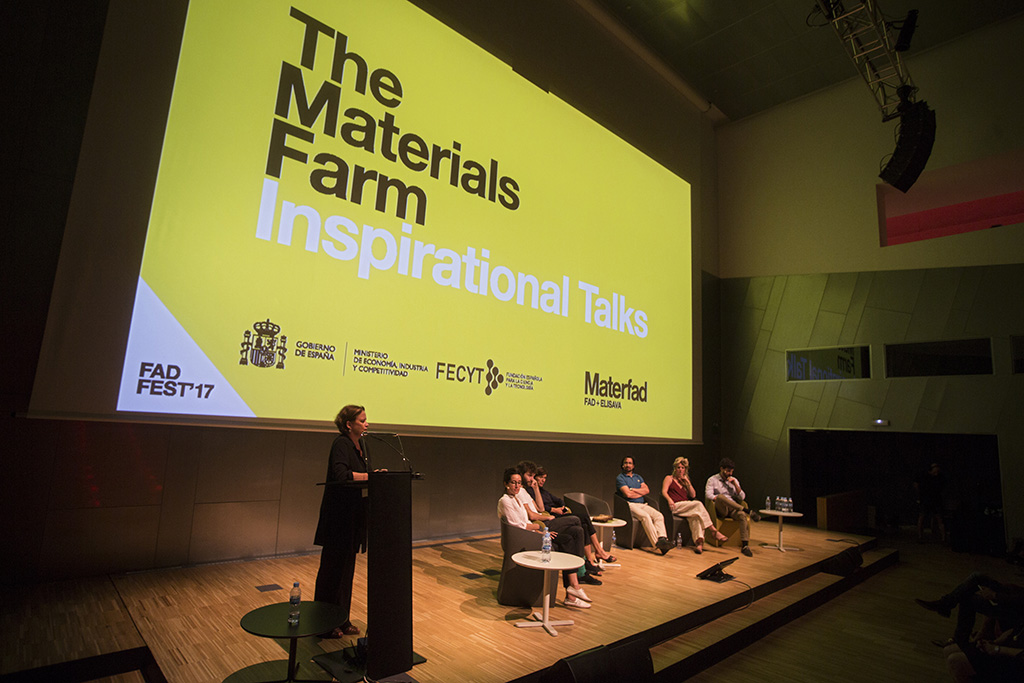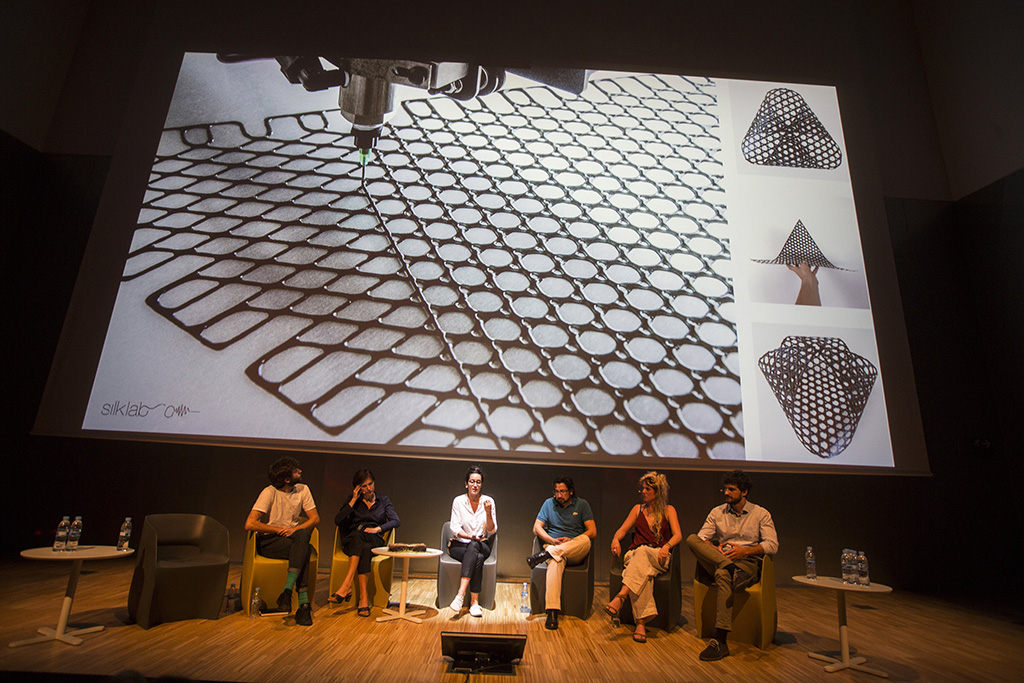 During the celebration of FADfest '17, Materfad organized a conference with international experts from different disciplines.
Diana Scherer, Saúl Baeza, Sanne Visser, Camilo Ayala, Pol Merino and Laia Mogas-Soldevila are the six guests who will explain their experiences and discuss their project and
the development of new materials from waste, agriculture and living organisms.
29 JUNE 17, 17.00pm
Building Design Hub Barcelona
---
10 JUNE / 2017
_____________________

EARTH MATTERS
Exciting times: the first (long) museum exhibition for Studio Sanne Visser and The New Age of Trichology.
'Earth Matters' refers to the worldwide development regarding sustainability and respect for earth's resources. In the worlds of design, science and business, these aspects are of great importance. By using the four themes, 'Honouring Origins', 'Collecting Ingredients', 'Reinventing Materials' and 'Sustaining Production', the exhibition 'EARTH MATTERS', gives the visitor a better understanding of a sustainable cycle and the importance of material studies. The exhibition shows experiments – from fashion to design - that contribute to a sustainable making process, either on a small or a large scale. All projects encourage people to think about the source of materials and the creation process, not only through innovation, but even more by the re-evaluation of crafts and locally produced products. The exhibition is curated by Lidewij Edelkoort and Philip Fimmano, together with the TextielMuseum.
www.textielmuseum.com
"This young century has brought about a moment of reflection and radical change, making up for a century of ecological abuse, consumption, greed and violence. At this point, we feel the urge to explore alternatives and use natural ingredients, which gives us hope for the future."
- Lidewij Edelkoort, exhibition co-curator
EARTH MATTERS is an expansive survey of new works, looking at innovative design objects, garments, textiles, yarns and materials. More than 40 international designers, artists and manufacturers transverse the 4 exhibition themes: Honouring Origins, Collecting Ingredients, Reinventing Materials and Sustaining Production.
About the curators
Lidewij Edelkoort is one of the world's most renowned trend forecasters; she is also a curator, publisher and educator. Along with co-curator Philip Fimmano, Edelkoort Exhibitions creates dynamic design exhibitions for international museums and institutions.
Exhibiting Designers & Artists
ANANAS ANAM (ES), MARJAN VAN AUBEL (NL), ALIX BIZET (FR), BOLT THREADS (US), FERNANDO & HUMBERTO, CAMPANA (BR), NACHO CARBONELL (ES), DOSA (US), PIET HEIN EEK (NL), KIKI VAN EIJK (NL), FISHER FOUND (US), INDIA FLINT (AU), FORMAFANTASMA (IT), FRIENDS OF LIGHT (US), NINA GAUTIER (CH), GOLDEN JOINERY (NL), ALY DE GROOT (AU), NIENKE HOOGVLIET (NL), MARLÉNE HUISSOUD (NL), INTERFACE (US), MARKUS KAYSER (DE), DIRK VANDER KOOIJ (NL), TOMÁŠ GABZDIL LIBERTÍNY (SK), JULIA LOHMANN (DE), ANKE LOUWERS (NL), LAURA LUCHTMAN & ILFA SIEBENHAAR (NL), CHRISTIEN MEINDERTSMA (NL), SANNE MUISER (NL), TAMARA ORJOLA (LV), SARMĪTE POĻAKOVA (LV), PROVENANCE (US), DIANA SCHERER (NL), THOMAS STRAUB (DE), SALEM VAN DER SWAAGH (DE), SUZANNE TICK (US), THOMAS VAILLY & LAURA LYNN JANSEN (NL), SANNE VISSER (NL), BIRGITTA DE VOS (NL), LYNETTE, WALLWORTH & ANONHI (GB), JOLAN VAN DER WIEL (NL), THE WILLOW GROUP (IS), FLORIS WUBBEN (NL)
---
23 MAY / 2017
_____________________

Oh, Barcalona!
In May The New Age of Trichology was on display with Materfad, Center of Materials Barcelona.
It's presented at the Future Arena, the innovation and trends space of Construmat fair from May 23rd to 26th.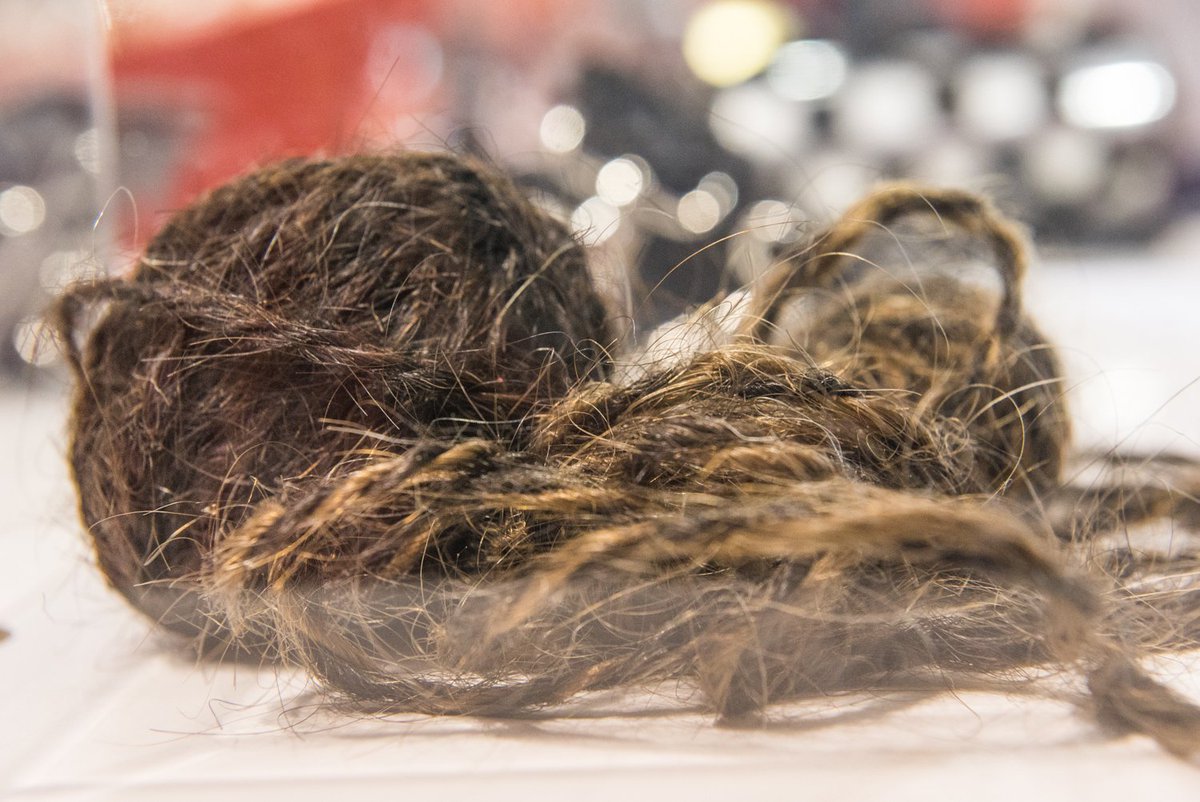 ---
04 APRIL / 2017
_____________________

The SWING is out!
'The Swing' for this years Milan Design Week, encourages visitors to engage with the product
and value a waste material by its miraculous qualities.
Come by to have a look at Via Ventura 2, also to see the whole exhibition of Form&Seek.
We are open from Tue, 4 April untill Sunday 9 April, everyday from 10.00 till 20.00.
---
25 MARCH / 2017
_____________________

Milan Design Week 2017 x Form & Seek
Coming up, 'The New Age of Trichology' will be exhibited during the Milan Design Week 2017, as a part of the
Form&Seek
exhibition
'Age of Man'
. Stay tuned.
April 4 - 9 2017
Via Ventura 2
Lambrate, Milan
---
20 OCTOBER / 2016
_____________________

Dutch Design Week 2016
8 designers will come together in one immersive space during the Dutch Design Week 2016 at the great location of Sectie C.
We welcome you to come visit the amazing works of these different designers including the works of Anna Samek, Michael McCready,
Eddie Olin, Lorena Miguel, Alejandro Cerón, Sanne Visser, Heart Glass and Victoria Ledig.
Follow us here:
@designmiscellaneous
#designmiscellaneous
SECTIE-C, DUTCH DESIGN WEEK
Date: 22 October - 30 October 2016
Opening times: 11.00am till 21.00pm
Address: Daalakkersweg 2 5641 JA Eindhoven
---
27 SEPTEMBER / 2016
_____________________

The first LDF16 is a WRAP!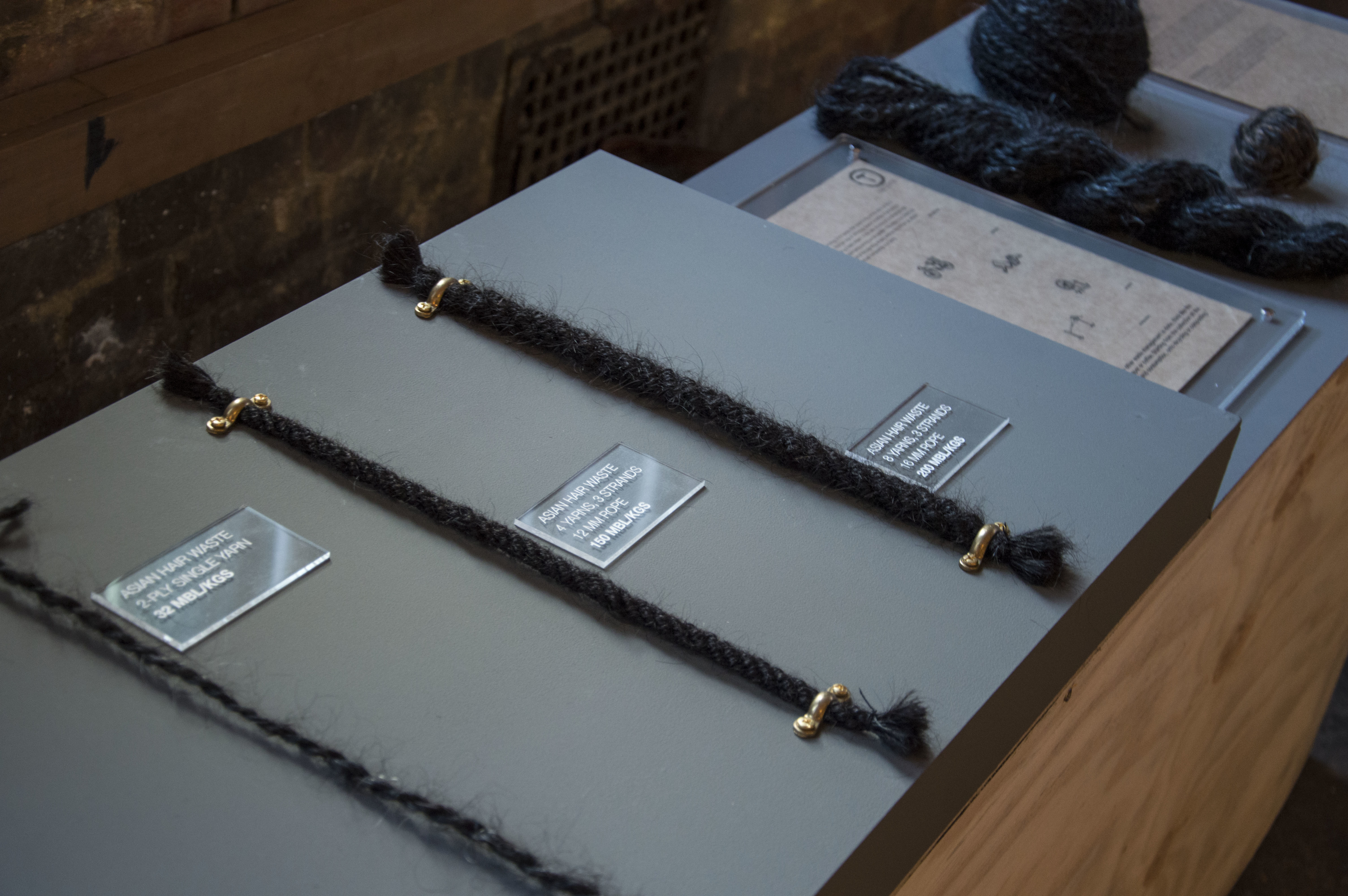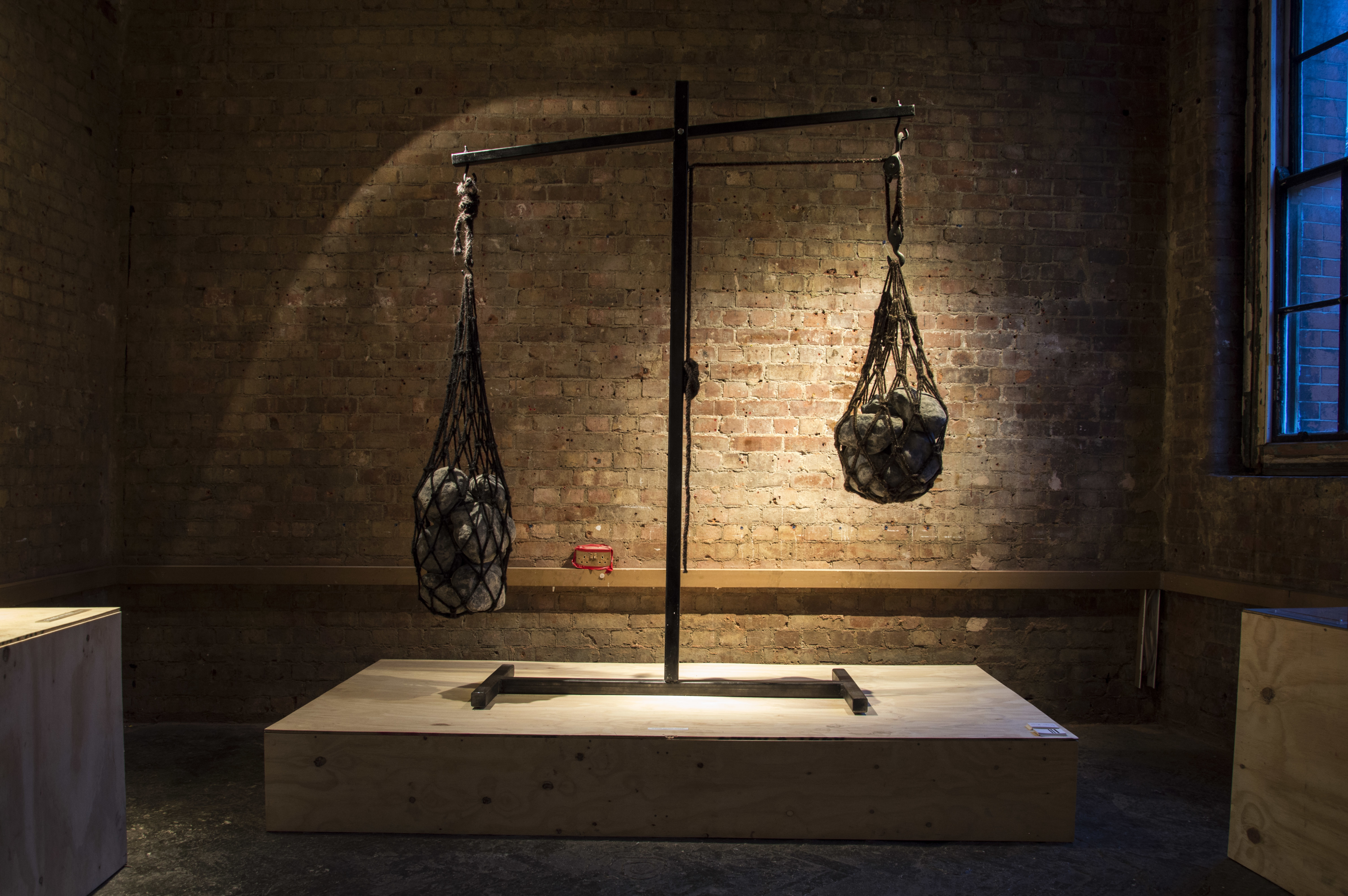 Thanks for coming you all, here are some snaps at the great location of Bargehouse, Oxo tower at the Southbank.
---
21 SEPTEMBER / 2016
_____________________

The New Age of Trichology X London Design Festival
The New Age of Trichology will be on shown during the London Design Festival,
part of the Designersblock exhibition at the Bargehouse, Oxo Tower!
21 - 25 SEPT 2016
Everyday from 11.00 till 19.00
---
24 JUNE / 2016
_____________________

'The New Age of Trichology' is out!
Harnessing the potential of hair
The New Age of Trichology - Harnessing the potential of hair is out, which is part of Sanne Visser's final Master project, on the Material Future Course at Central Saint Martins. Would you like more information? Please check out the project page.
21-26 JUNE / 2016
_____________________

Final Degree Show MA Material Futures
Central Saint Martins, UAL, London, UK
Provocating Futures
at Central Saint Martins
MA MATERIAL FUTURES
Degree Show Two // 22 - 26 June 2016
21.06 / Private View - from 17.00 - 22.00
22.06 / Public View - from 12.00 - 20.00
23.06 / Public View - from 12.00 - 16.00
24.06 / Public View - from 12.00 - 20.00
25.06 / Public View - from 12.00 - 18.00
26.06 / Public View - from 12.00 - 18.00
Anne Vaandrager // Audrey Speyer // Benedetta Martino // Bonnie Pierre-Davis // Cathrine Michelle Baranda // Charlotte Nordmoen // Dew Apilada Vorachart // Giulia Tomasello // Hanan Al Kouh // Ines Marques // Katy Shand // La Duma ElamaMpondo // Lesley -Ann Daly // Liza Mackenzie // Manuel Thiessart // Maritta Nemsadze // Mi Zhang // Nicky Vu // Nilou Esfandiary // Pamm Hong // Phoebe Quare // Sanne Visser // Tina Gorjanc // Valentina Coraglia // Ying Lai // Ying Shen // Zannah Cooper
@Material Futures
www.mamaterialfutures.tumblr.com
twitter.com/materialfutures
instagram.com/materialfutures
#ProvocatingFutures
#MaMaterialFutures
It's been a fantastic and challenging 18 months and now the end is in sight! We are exhibiting our final work in June at the Degree Show here in Central Saint Martins, London.
Material Futures students re-think the future.
We explore the intersection of craft, science and technology and aim to look beyond existing boundaries.
We combine social, political and economic inquiry to inform future, sustainable design applications. Our research projects focus on a range of diverse subjects such as: materiality in the digital world, the future of medical care, sustainable energy, migration in the 21st century and the potential of synthetic biology.
---
19 APRIL / 2016
_____________________

THANK YOU MILANO
The New Age of Trichology first presented its netted bags during the Milan Design Week as part of the MA Material Futures Group exhibition at Ventura Lambrate.
---
12-17 APRIL / 2016
_____________________

Milan Design Week
MA Material Futures x Ventura Lambrate // Milano, Italy
We will be exhibtion in Milan... stay tuned!
FEBRUARY / 2016
_____________________

We need your support!
Every donation counts, please visit our page:

https://www.kickstarter.com/projects/106703478/material-futures-degree-show-2016
---
20 / SEPTEMBER / 2015
_____________________

We got NOMINATED!
Studio Sanne Visser is nominated for the TWOTY Awards 2015/2016 in the category 'Upcoming Talent'!
TWOTY is the 'Trendwatcher Of The Year Award' in the Netherlands.
---
02 / JULY / 2015
__________________

THANK YOU Prins Bernhard Cultuur Fonds
Sanne was one out of the 173 people to receive a grant to be able to continue her masters degree. Many thanks to Prins Bernhard CultuurFonds for their help and the great day we had.
---
30 / APRIL / 2015
__________________

THIRD exhibition for 'The Mercurial Process' in China
The Chinese just don't know how to stop! There will be an extended exhibition after the current
exhibition in the Creative Art Centre in Wuhan.
The next exhibition will be in the BIG, well-known Hubei Provincial Museum, in Wuhan China!
The exhibition will start on the 12th June and ends on the 22nd June 2015.
Hubei Provincial Museum, Wuhan district in the Province of Hubei, China
---
27 / APRIL / 2015
__________________

Second exhibition for 'The Mercurial Process' in China
The Mercurial Process is shown (on the leftside in picture above) as part of the exhibition DAYBREAK, which features more then 50 graduates from China and Europe.
In collaboration with Creative Art Center, Wuhan and St Lucas University College of Art & Design, Antwerp, Belgium.
Opening: 25th April 2015
Exhibtion period: 25 April - 12 June 2015
---
01 / APRIL / 2015

A collaborative project between the V&A,
Olympic Park & young local students
"Concept to Catwalk is an exciting pan-London challenge supported by the Mayor of London
for school children in key stage 3 and 4 which explores and celebrates the links between fashion and technology, especially focusing on the textile heritage of east London."
Sanne Visser worked together with colleague Charlotte Nordmoen to mentor two young boys of
Ajith and Vikram (12 yrs old, Sutton Grammar School), to compete in the challenge 'Concept to Catwalk'.
The final presentation took place in the Aquatic Centre of the Olympic Park in London.
The project took around 3 months to produce a concept and outfit which was presented on the 1st of April 2015. Below pictures of the final show.
Partners involved were the V&A, Olympic Park, and technical support from Convivial Studio.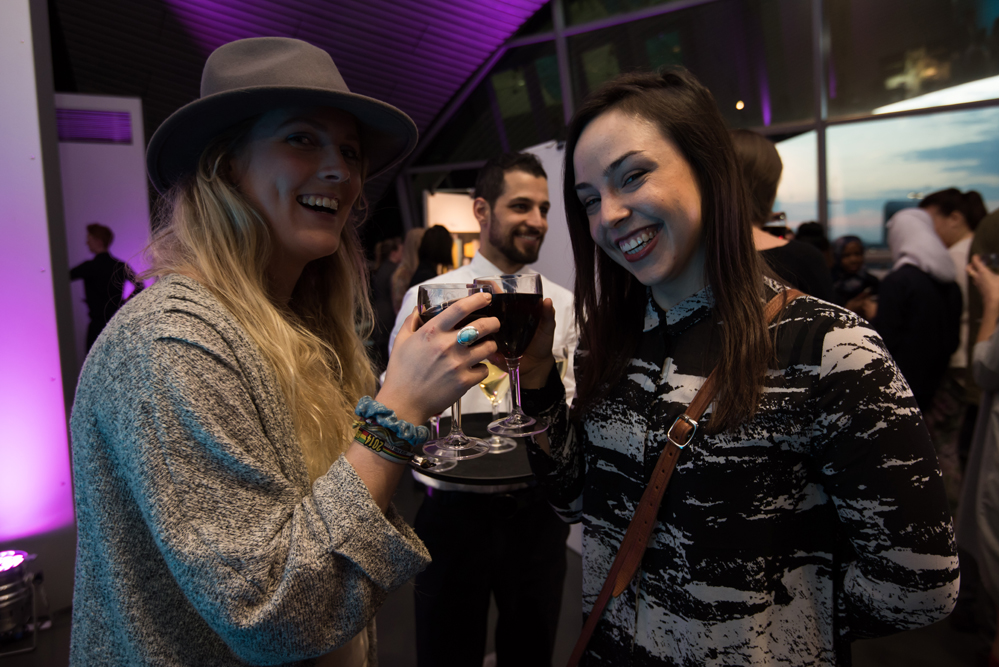 ---
6 / AUGUST / 2014
__________________

BA Graduation Project in the Dutch Newspaper!
In the article they announce the fact that Sanne's project will be on show in her first international exhibition in Wuhan, China. The exhibition will be from 17th October untill 27th December 2014. The exhibitions is called 'Travelers on the Earth' in the Creative Capital, Wuhan, China.